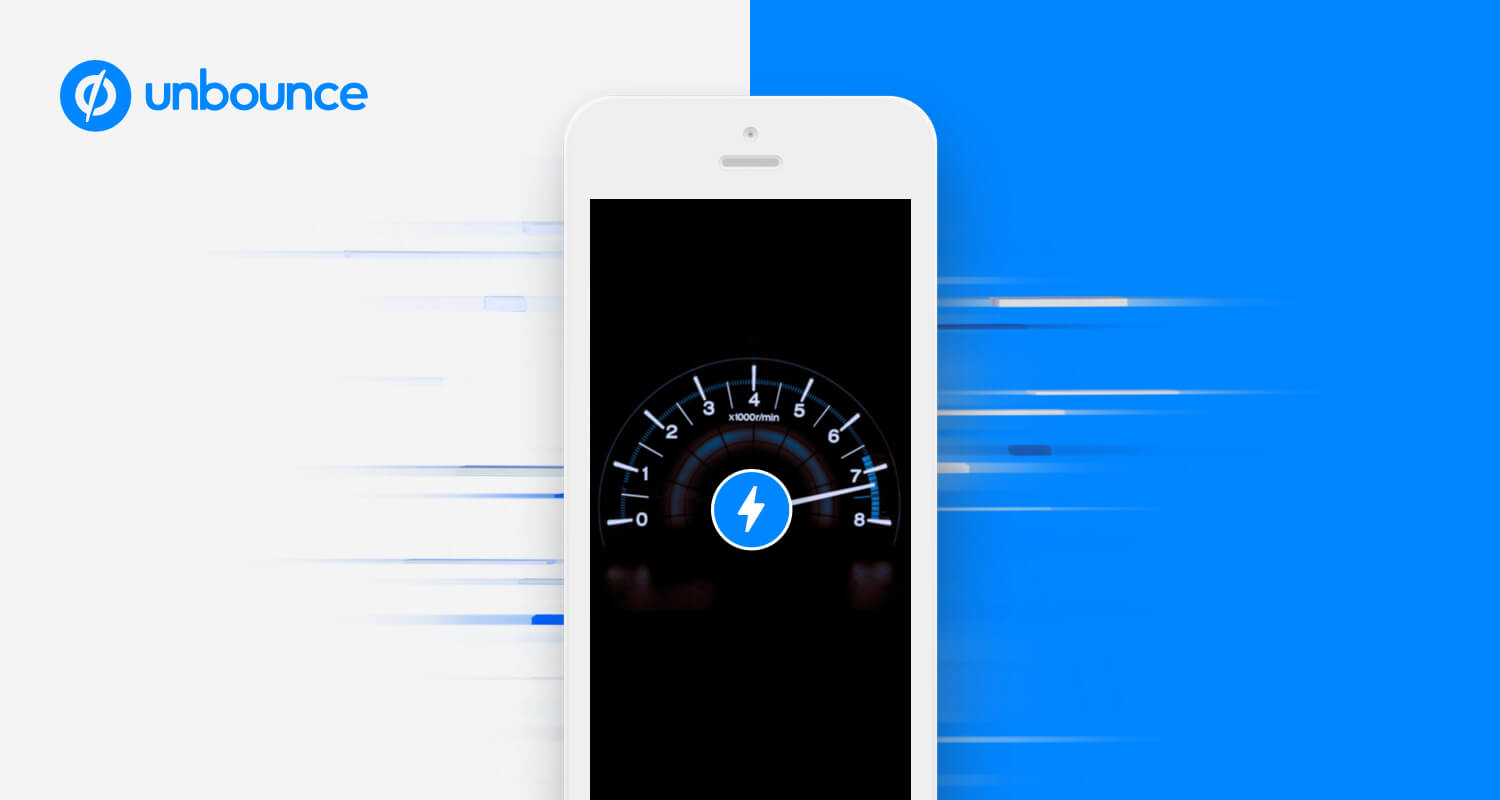 In 2019, more than half of all web pages will be loaded on smartphones. This means more prospects than ever before will connect to your business while on the go.
But it also means more of 'em will connect while hurrying between appointments—or while fighting for a seat on public transit, or while struggling with spotty Wi-Fi at the local Starbucks. So they'll have much less patience for your slow-loading web pages, no matter what you're offering. (In fact, Google tells us that 53% of your potential mobile conversions are gone after the first three seconds of waiting. That ain't long.)
Surely, then, you want to speed up your load times. Otherwise, you'll end up spending money driving traffic to landing pages that are never even seen and don't convert.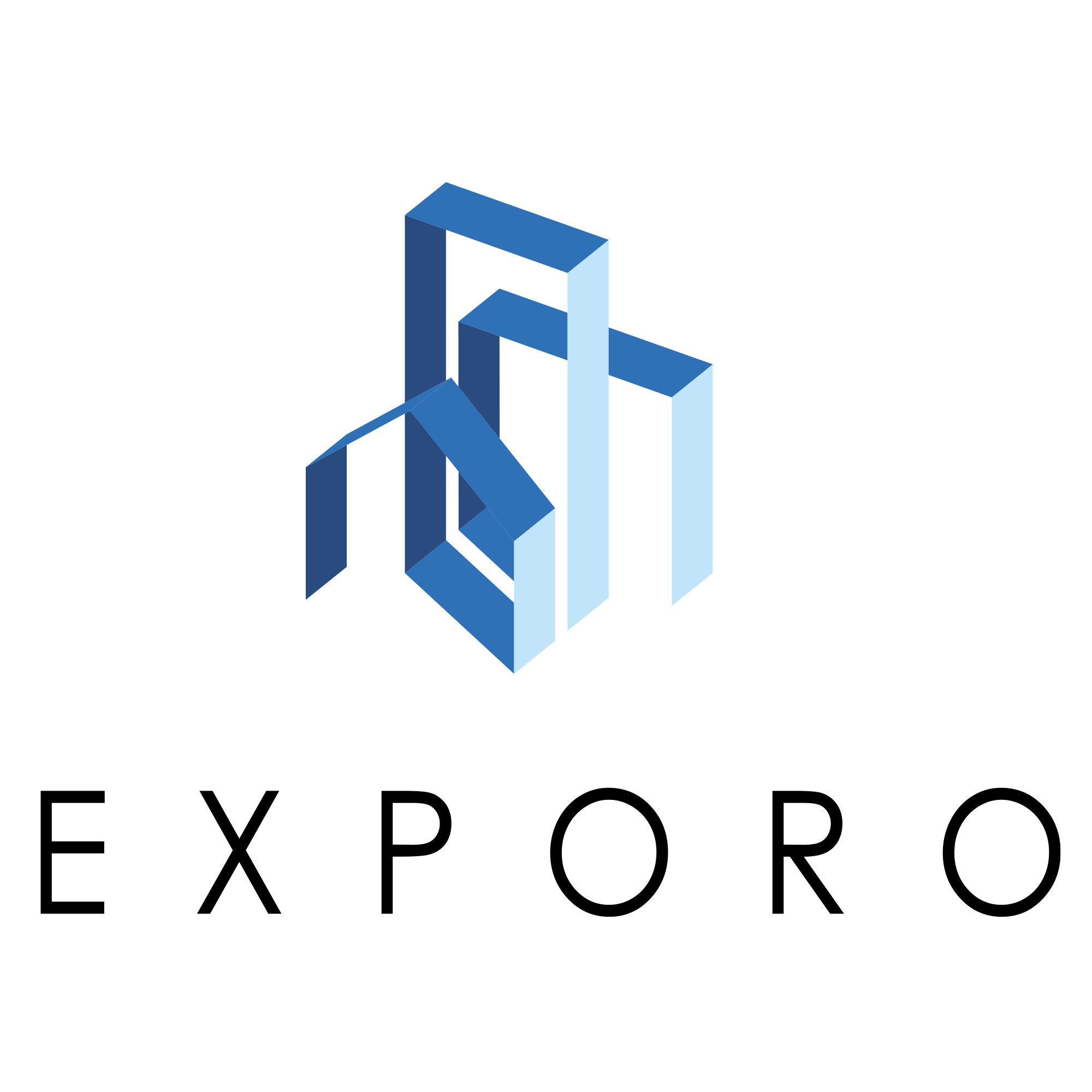 Exporo, an innovative real estate crowdfunding platform based out of Germany, jumped on the speed wagon early. They knew mobile speeds impacted their conversions, and they were very interested in using Accelerated Mobile Pages (AMP) to create engaging, faster-loading experiences. Backed by Google, AMP pages load in less than half a second—85% quicker than normal pages—so they're a solid option for anyone looking for mobile performance.
In practice, though, the framework's restrictive code seemed like a pain. Many companies like Exporo quickly realize that coding AMP pages from scratch isn't going to be as efficient as they need—and will take up developer resources they can't spare. We don't blame 'em one bit for holding out: implementing AMP can be pretty tough.
According to Marcel Heymuth, Exporo's Senior Performance Marketing Manager, being able to create AMP-ready experiences with Unbounce changed their mind: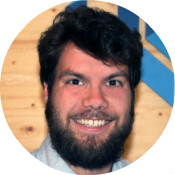 Fast mobile pages are essential for good user experience, so when Unbounce announced that they were offering AMP we were thrilled! Now all of our landing page specialists can
build AMP pages quickly and easily without having to resort to IT resources!
If, like Exporo, you've been waiting for AMP to become more accessible and easier to test, consider this post to be your starting pistol. Because at Unbounce we've been working hard to make creating AMP landing pages as simple as possible. (Bang!)
Now you can easily drag and drop together AMP experiences
After a successful beta run, we're excited to announce AMP landing pages are officially available on Premium or Enterprise Unbounce plans. Like, right now.
Using the drag-and-drop builder, you can now create near-instant experiences that dramatically shorten the time it takes for visitors to see your content. AMP landing pages can improve conversion rates (faster loads means less frustrated visitors), increase your Quality Scores in Google Ads, and ensure you're not spending money on traffic that doesn't see your content.
Not an Unbounce customer? Take the builder for a spin—and start creating AMP landing pages—with a 14-day free trial.
Say goodbye to complicated
We're not gonna lie—while AMP has clear benefits, hand-coding AMP landing pages from scratch can be a pain in the butt. (I'd use stronger language here, but my mom's a reader.) The AMP framework limits your HTML and JavaScript to only the essentials, and Google's AMP Cache requires validation before it will ever serve up your pages. Ironically, this slows you down when you create these fast pages.
As Joe Savitch, Marketing Services Manager at Altos, puts it:

AMP is a powerful markup language… but it is also VERY precise. One validation error and poof… your page is worthless. In Unbounce you can focus on building a high-converting landing page, not learning a new markup language.
Given how many marketers told us they were hesitant to try AMP because of these technical hurdles, we wanted to make it easier. Whether or not you have a crack team of web developers behind you, Unbounce helps you get your marketing campaign AMP-ready sooner.
Now you needn't wait for a developer to start creating AMP landing pages. You can fire up the builder and drag something together all by your lonesome. It's not a bad way to secure better results. And there are some other benefits to doing it in Unbounce:
Customize as much, or as little, as you want
Unbounce features ready-to-go templates that let you create an AMP-validated landing page in minutes. If you're already using Unbounce, you can even copy and paste page sections or elements from existing landing pages.
If you want to get fancy about it, though, you can also always add AMP-compatible HTML, CSS, or JavaScript. While the point of AMP is to be restrictive, we recognize that there are still scripts you'll want to include or experiment with—which is why we didn't set limits on what you can do with your AMP pages. If you can validate the page you want, then go ahead.
(But you probably shouldn't go crazy here. These pages are intended to be simple so they load fast.)
A handy Zapier workaround
Some third-party integration scripts are not currently AMP compatible—we wish they were, frankly. If we could get every part of your marketing stack aboard the AMP train tomorrow, we would.
But our 1000+ integrations with Zapier provide a nice workaround. Using zaps, you can send leads from your built-in-Unbounce AMP pages to apps and tools like Mailchimp, Hubspot, Marketo, Campaign Monitor, and tons of others. In other words, you can ensure seamless lead management from your campaigns.
And Zapier also lets you add analytics and tracking to your AMP landing pages, which is much trickier if you're coding these pages from scratch.
How to get started with AMP landing pages
If you're an Unbounce customer, chances are good you know the drag-and-drop builder. (If not, start a free trial to check it out.) Once you're in, creating your first AMP landing page is not a heck of a lot different than creating a standard landing page, popup, or sticky bar.
1. Select AMP in the Unbounce Builder
You can find AMP in the side panel. Select it, then click "Create New" to get started.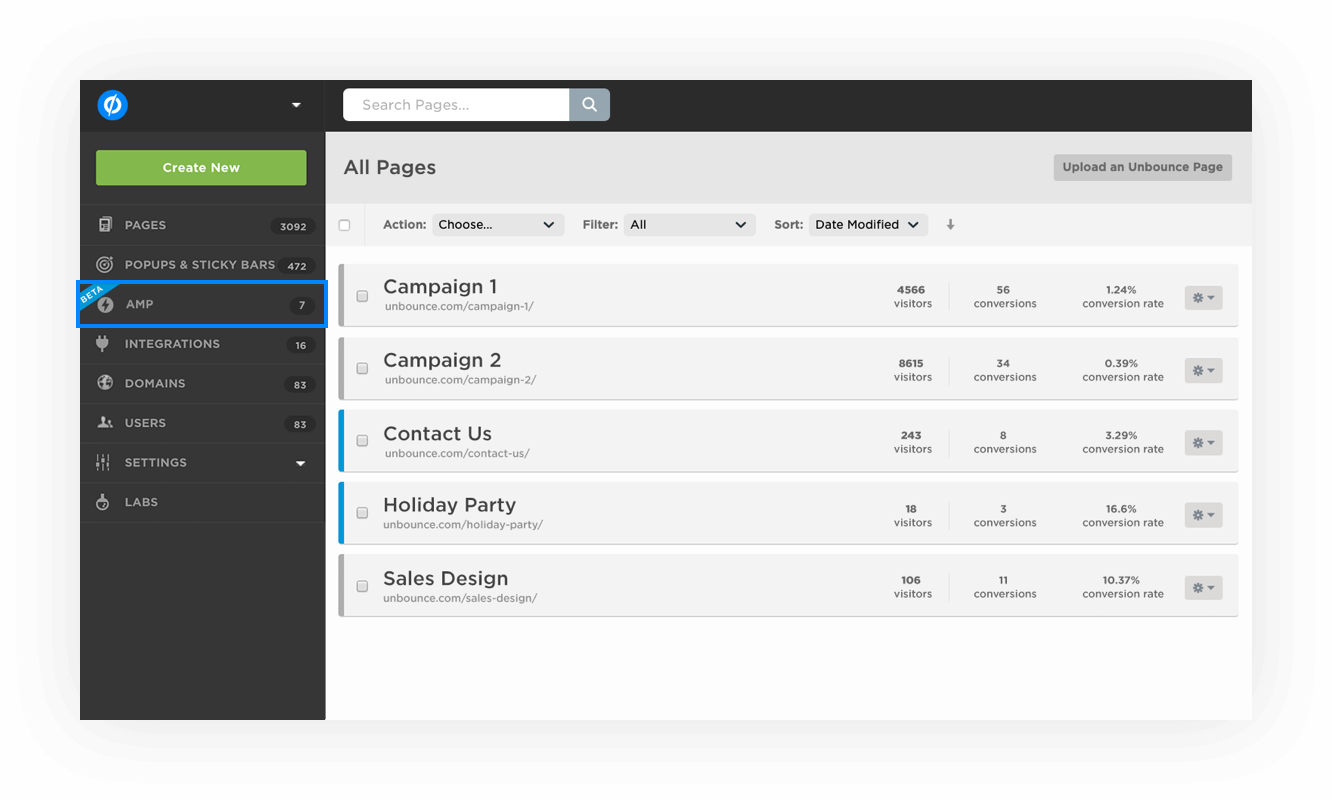 2. Choose a Template
Pick a ready-to-use template that you'll customize to fit your brand. Or if you've got something entirely new in mind—you are no mere marketer, you're an artiste, we feel ya—go for it. Just click "Start from Scratch" for a blank page.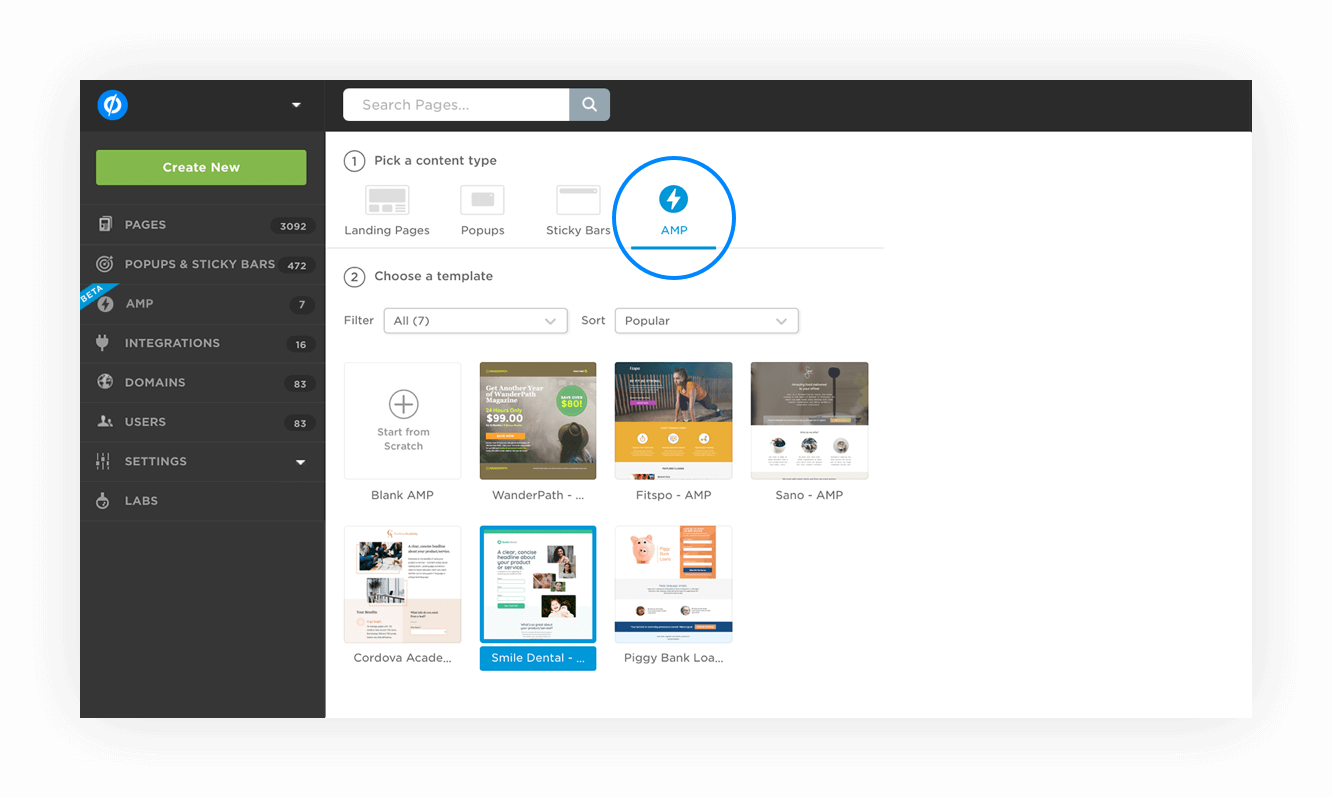 3. Drag and Drop Together Your AMP Page
Add images, text, lead gen forms, and other elements to your AMP page using the simple drag-and-drop editor. Any images you add will be automatically optimized for performance.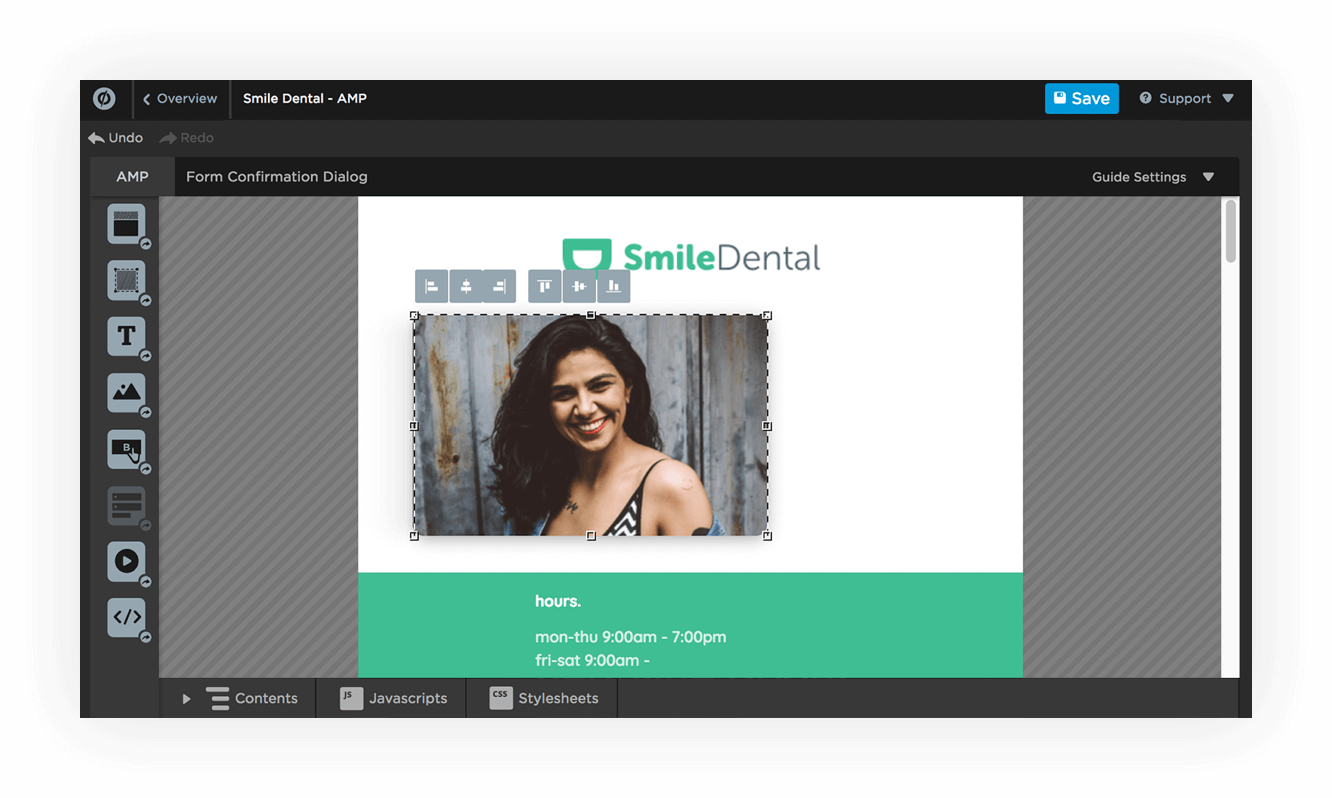 4. Validate with Google
Once your page is ready, click the "Validate" button to check with Google that your landing page meets all the standards required by the AMP framework. Then publish.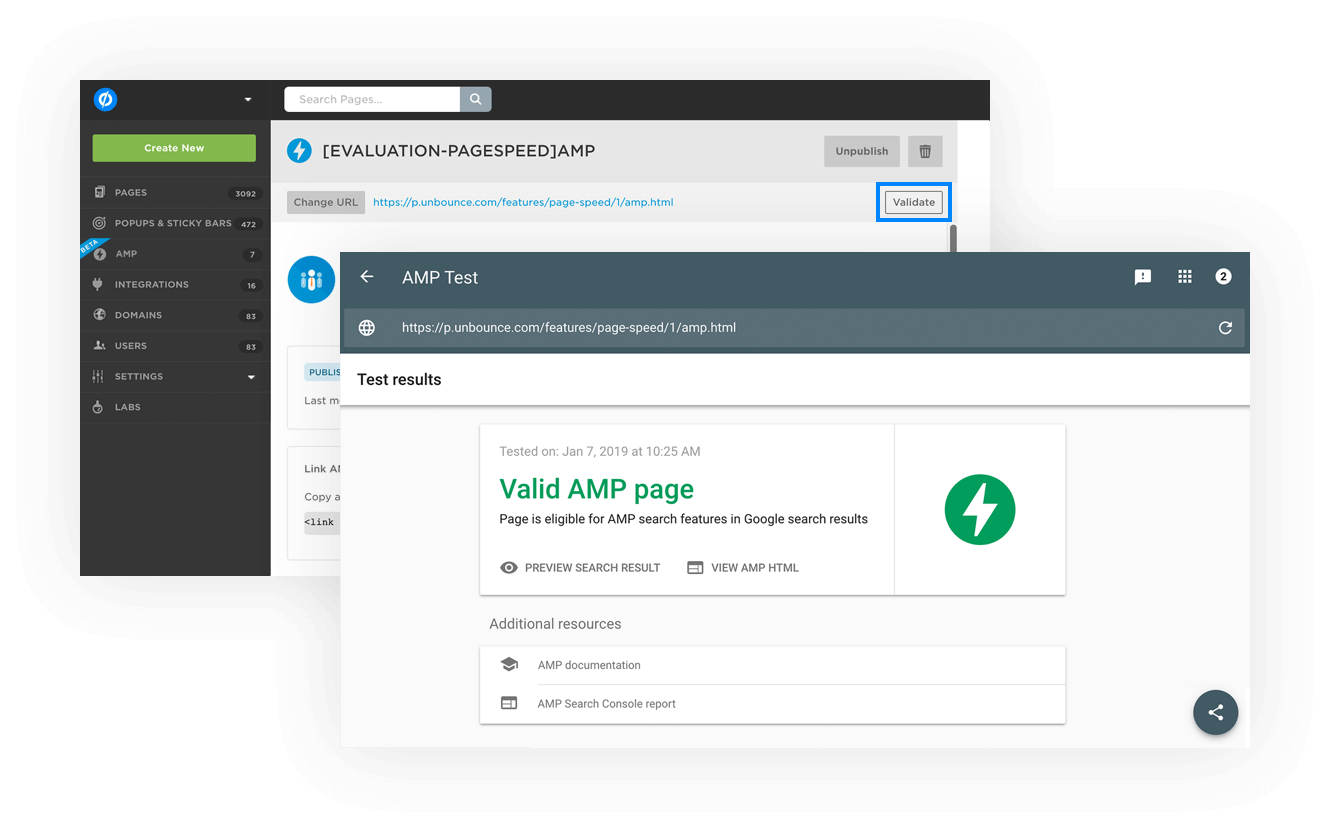 Create Your AMP landing pages now
It's 2019 and delivering the fastest possible page speeds is not optional. Your prospective customers are fresh out of patience, and Google is putting more and more pressure on marketers to get faster as a result. Though Accelerated Mobile Pages aren't a magic bullet, for most us they're an opportunity to get ahead of the pack. Create smoother, faster, more engaging landing pages for mobile devices.
But the proof is in the pudding, as they say, so why not see for yourself? If you're on a Premium or Enterprise plan with Unbounce, AMP is available to you right now. (No, seriously. Check the builder. We think you'll love it.)
And if you've yet to give AMP try, let alone with Unbounce, don't be shy. We highly encourage you to start a free trial and drag and drop together your first AMP landing page. You can recreate an existing destination URL for one of your ad campaigns, for example, and compare the difference over the next month. Let us know what you think!
Additional Resources
Original Article