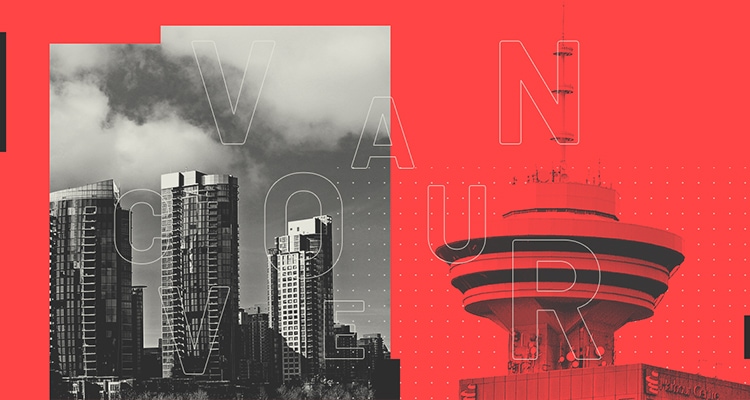 Conferences, conferences everywhere. SearchLove here, INBOUND there. There's no shortage of great marketing conferences to choose from, but you've likely got a finite budget your marketing department can put toward them. How are you supposed to know which Martech events are the best bang for your buck?
We'll make it easy for you. I mean, sure, we're biased, but hear us out. This August's fifth annual Call to Action Conference is not only:
Less expensive than most conferences of its caliber (tickets range from $749—$999 CAD), it's also
designed for high-impact learning: you walk away with leading-edge tactics you can actually use when you get back to the office.
But the cherry atop the already awesome two days? The conference is held in one of the most beautiful cities on earth, Vancouver, BC.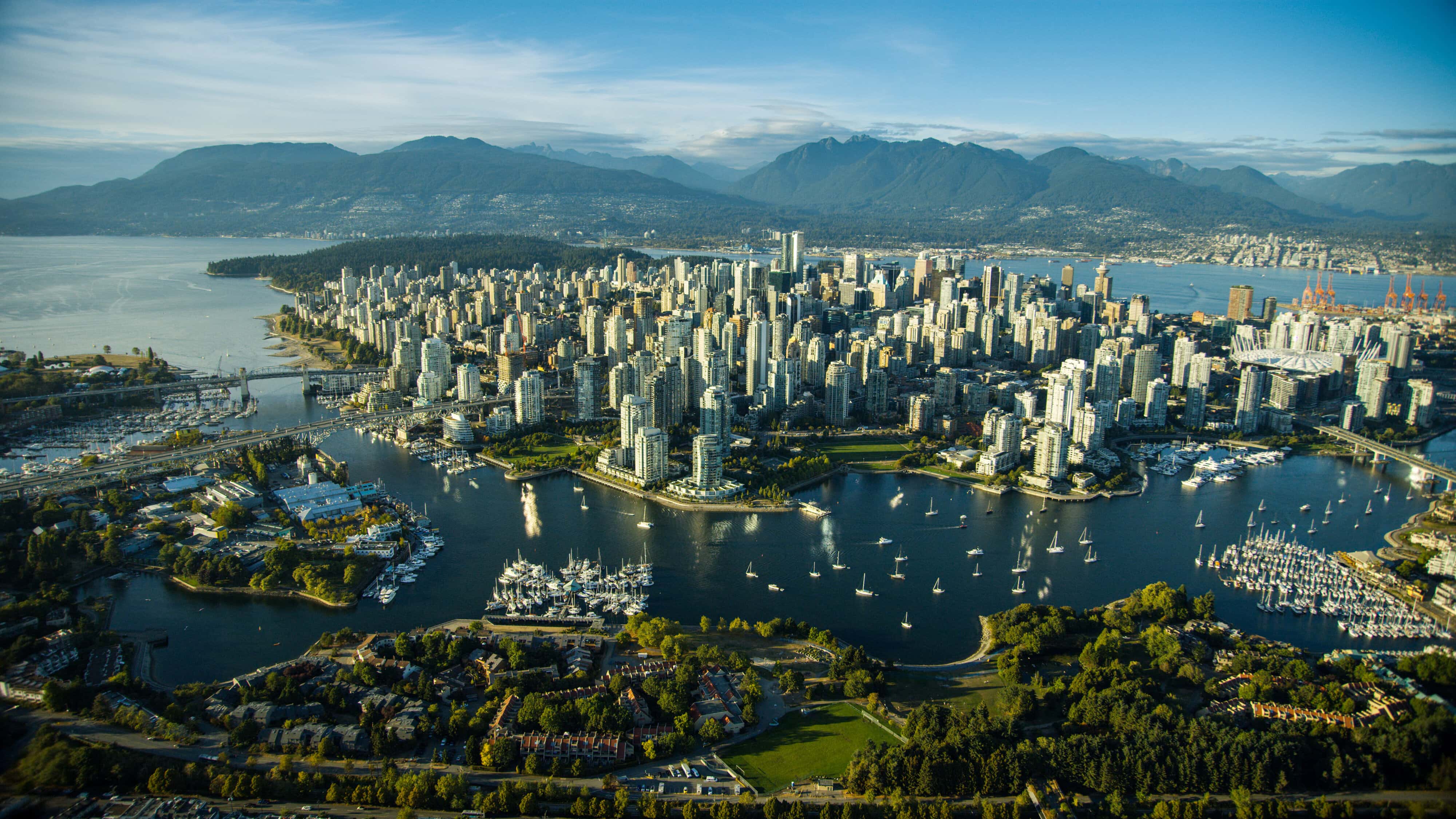 Image: Tourism Vancouver/ Barbershop Films
And not in an "it's our hometown so we have to say it's beautiful (lest we be Game of Thrones-style shamed in the streets)" way, either. It really is amazing: the ocean, the mountains, the diverse food scene, the beer-snob-approved breweries, and awe-inspiring wilderness that makes you forget about your inbox. There's a reason tourists flock here in droves and I willingly pay a crazy amount in rent.
CTAConf 2018 also takes place in peak sunshine season, August 27-29th. So why not mix business with pleasure?
Many past attendees and speakers have added a few extra days on to their CTAConf excursion to enjoy this city. And if you'd like to do the same, we've created a visitor's guide to CTAConf 2018 sourced from local influencers, this year's speakers, past attendees, and our own favourite to-dos. See the pro's suggestions below for turning this August's work trip into a well-deserved getaway.
Wanna attend CTAConf for free? Scroll down to tweet this post for a chance to win a complementary ticket to CTAConf 2018, $500 toward your travel, and a "Destination Experience Pass" for free access to all local and many out-of-town attractions valued at $2000, courtesy of Tourism Vancouver.*
If you'll be around a couple extra days…
The Call to Action Conference, insofar as the speaker's talks, takes place August 28—29th at the Queen Elizabeth Theatre. There's also an optional day of hands-on marketing workshops on August 27th at Unbounce HQ. If you tack on the weekend days before to your trip, or an extra few days at the end of the conference, here are some itinerary options to fill up your stay:
See the sea, walk the wall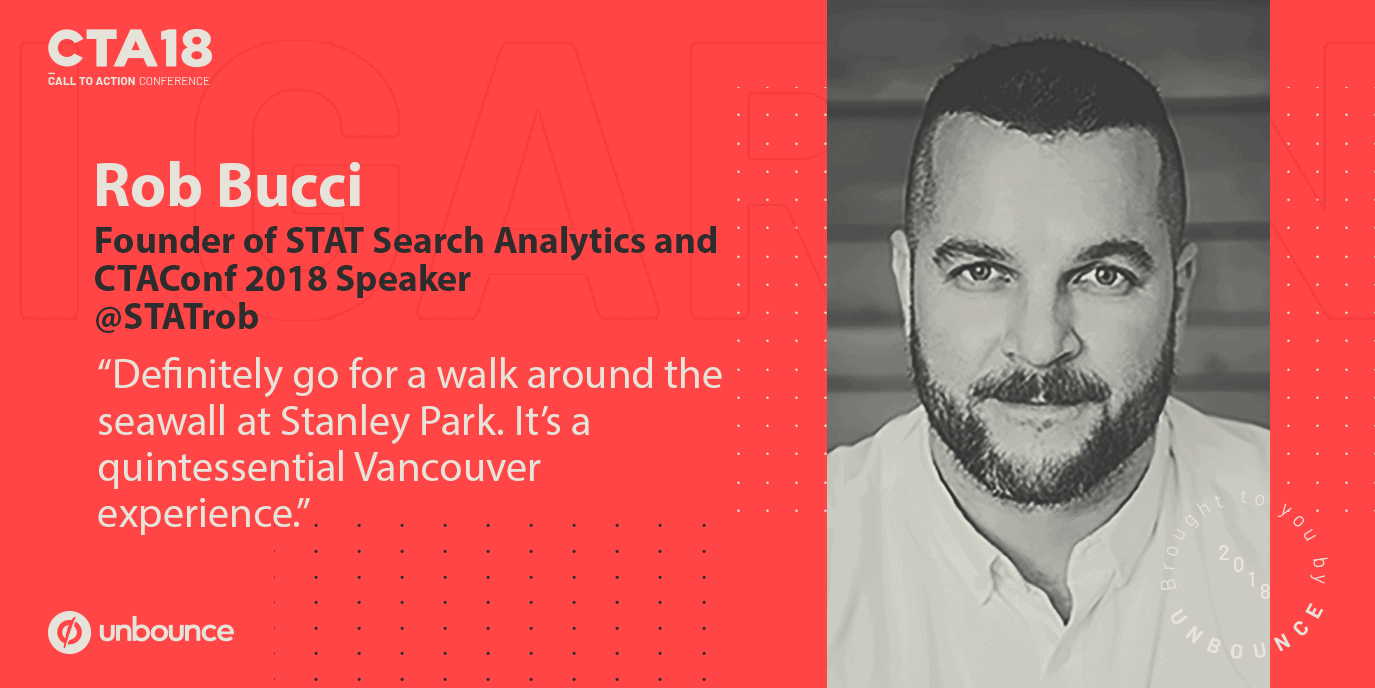 Hands down, a walk, bike or run along the seawall is a must-do for every Vancouver visitor. Flanked by the Pacific Ocean and Stanley Park, it's easily accessible from anywhere downtown and the simplest route to absorbing Vancouver's natural beauty.
No need to bring the gear—rent a bike at Yes Cycle or Cycle City Tours, two of many rental shops.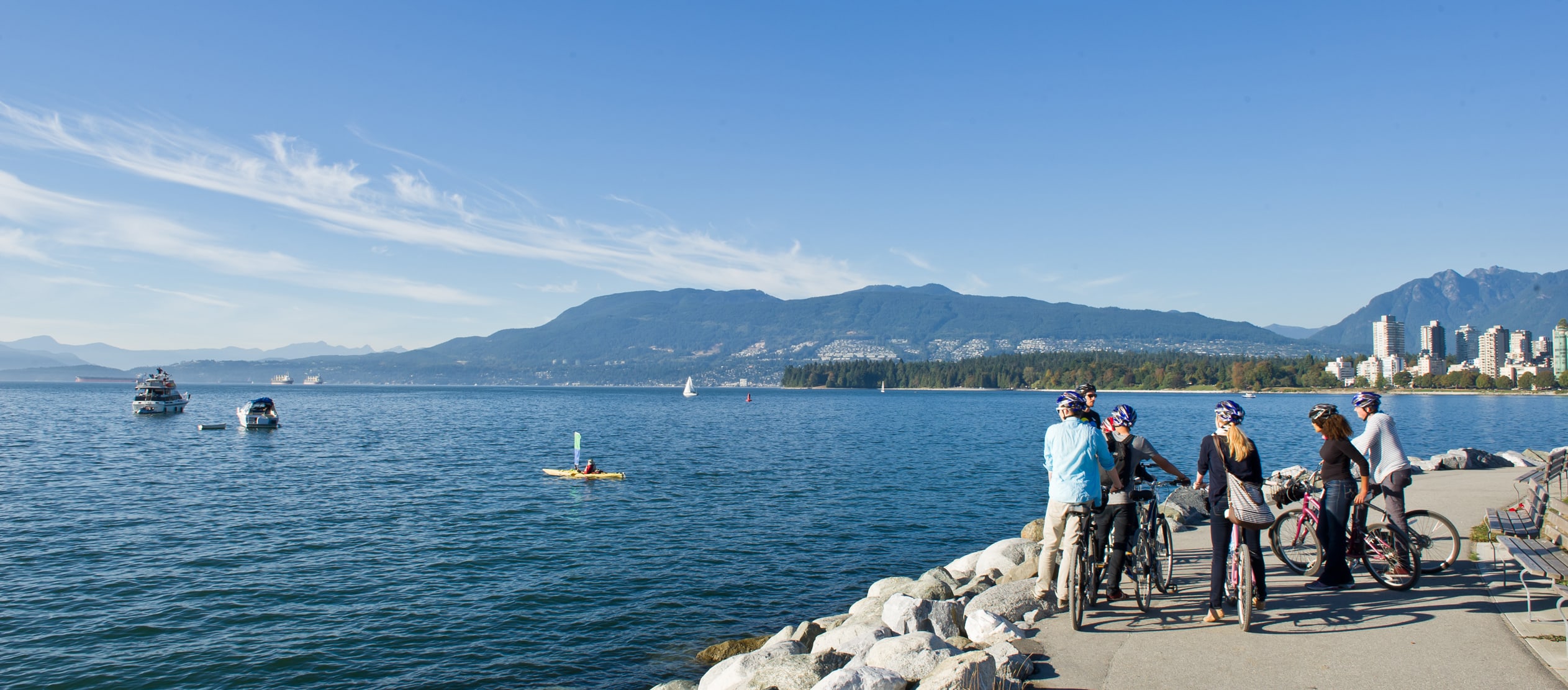 Image: Tourism Vancouver/ Cycle City Tours.
Tour Granville Island: the island that's not an island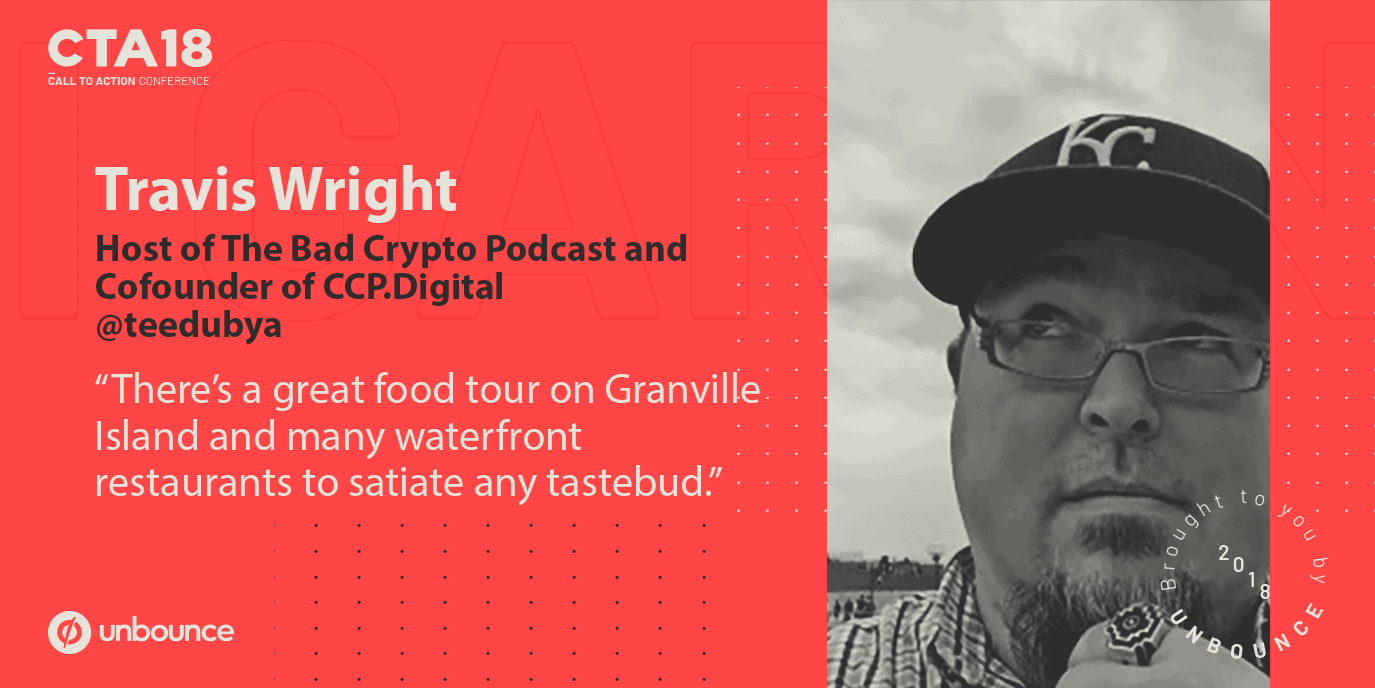 Granville Island is like a tiny world unto itself, small in square footage but big on things to see and do. Peruse an art gallery, watch a play, go on a whimsical shopping spree at the many artisanal shops, and—most importantly—eat your heart out. There are tons of restaurants to hit, and be sure to poke around the Granville Island Public Market, an overwhelming smorgasbord of local fare.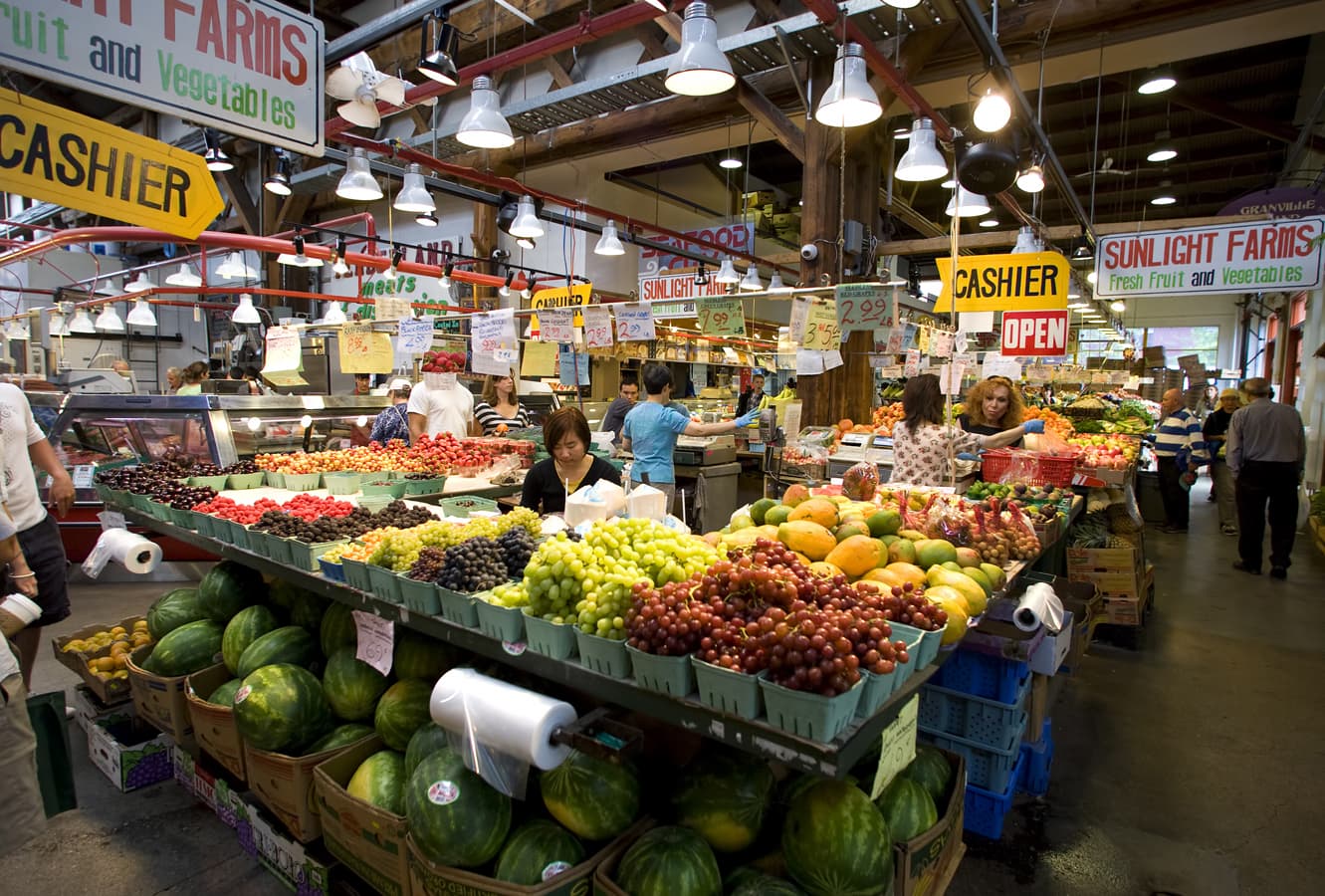 Image: Tourism Vancouver/ Clayton Perry
Have a BBQ…on a boat!
While you're at the Granville Island Public Market, load up a picnic basket and hop on Joe's BBQ Boat—no explanation needed. Because what's better than floating around on the open water and soaking up the sunshine? Doing so while working up a good meat sweat. Find fellow BBQ buffs to join you in the CTAConf Facebook group and fill that boat up! Conference networking at its finest.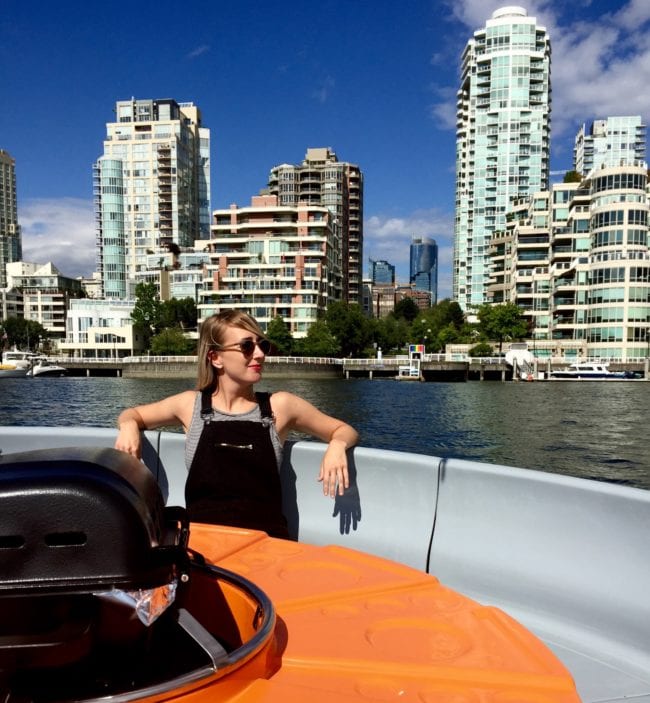 Me, in the BBQ boat, living my best life.
Visit an East Van brewery (or two)
With fantastic breweries boasting some of the finest craft beers in the world, a good old fashioned crawl beckons any beer lover who visits. East Vancouver is your best bet for variety and walkability. You can check out: Strange Fellows Brewing, Andina Brewing Company, Parallel 49 Brewing, Postmark Brewing, Doan's Craft Brewing, Callister Brewing Company, and Strathcona Beer Company.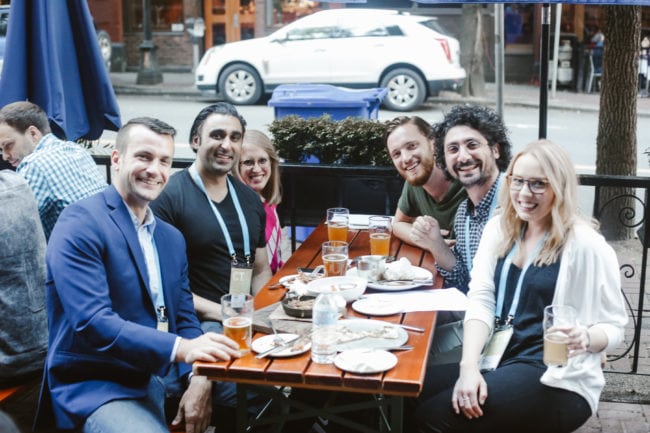 Have your best brunch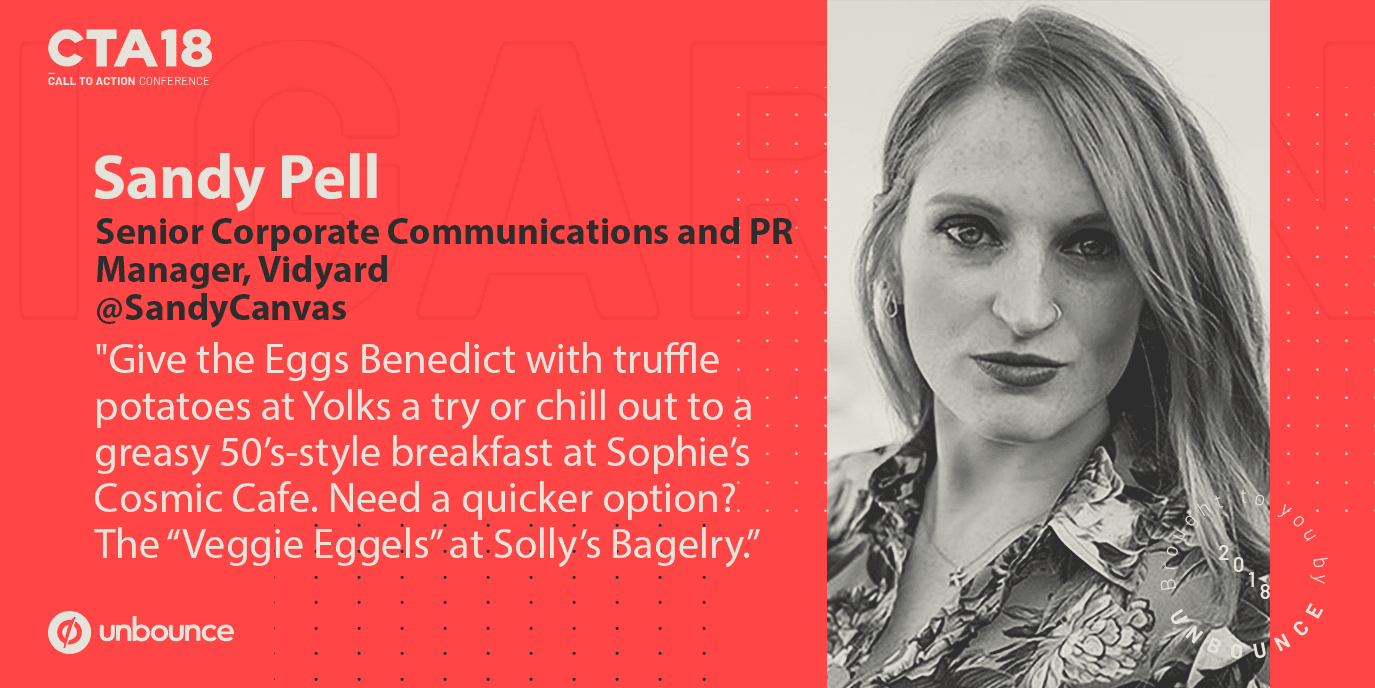 It's no accident that I've placed the brunch options after the brewery crawl. Whether you're in dire need of a greasy spoon or looking to brunch in style, we've got you covered. Yolks showed up on everyone's list when we asked around for favourite brunch spots, as did Chambar, Medina Cafe, and Fable Restaurant. Jam Cafe, Wildebeest, Catch 122, and The Distillery are guaranteed to please as well. As is Canadian brunch custom, you're required to order a Caesar. Don't ask what's in it.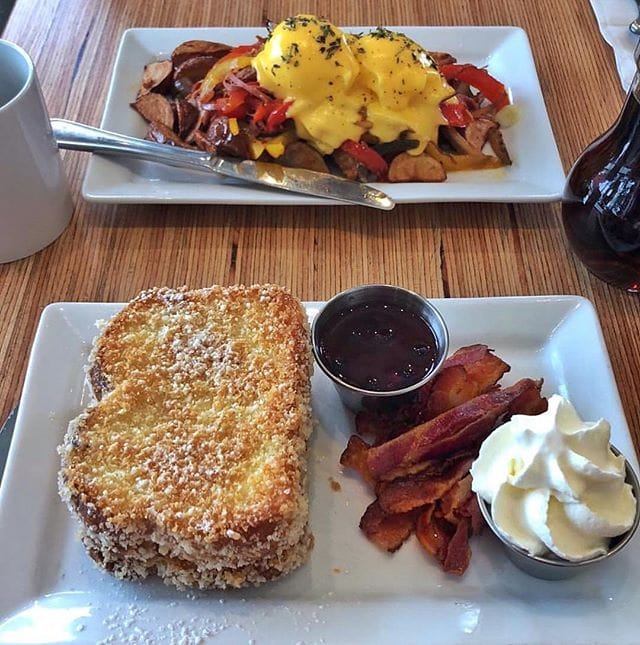 Image via yolks.ca.
Hit the Aquarium
If it does rain, your indoor options are covered. Conveniently tucked away in Stanley Park, the Vancouver Aquarium is a must-do. See giant sea lions and playful seals, watch penguins toddle and slide around (aw!), touch a starfish or manta ray (weird!) and try to find the octopus (you can't, he's too sneaky) as you journey through B.C. and beyond's underwater world.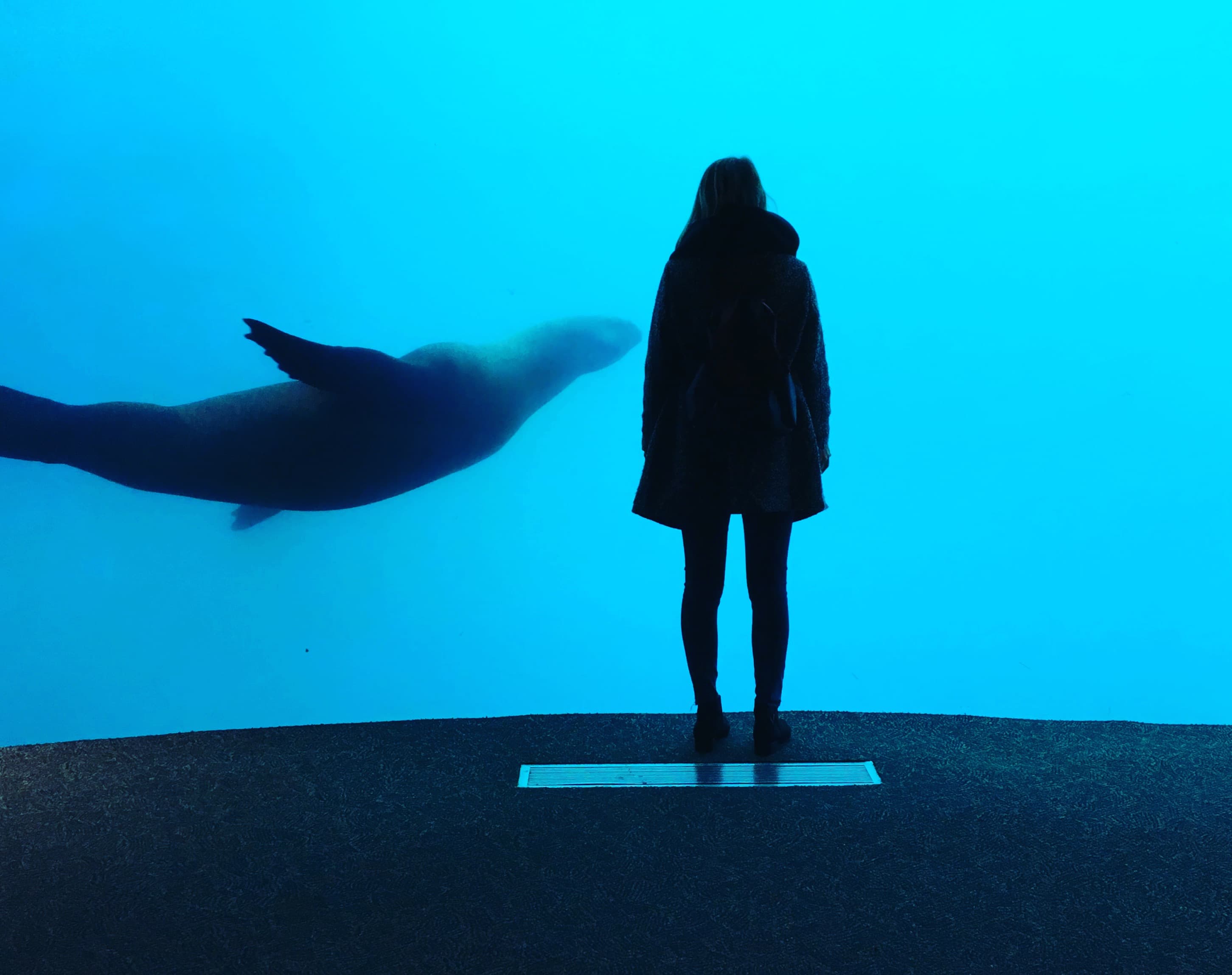 Oh canyon, my canyon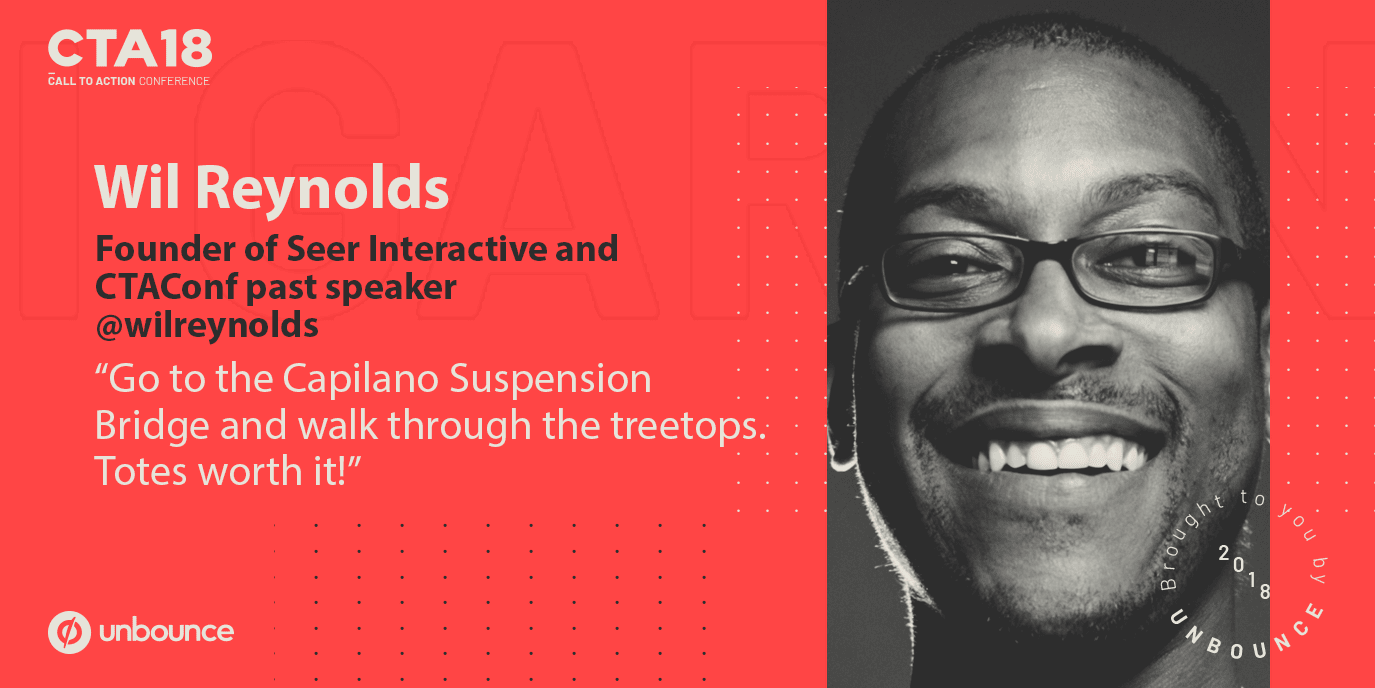 As past speaker Wil Reynold's knows, the Capilano Canyon suspension bridge and cliff walk is worth a few anxious moments. Just a quick jaunt across the Lions Gate Bridge (an attraction on its own!), this otherworldly spot makes it hard to believe you're so close to the city. Not too far away is another canyon and yes, another suspension bridge in Lynn Canyon Park—a little less crowded, 100% free, and as beautiful as ever.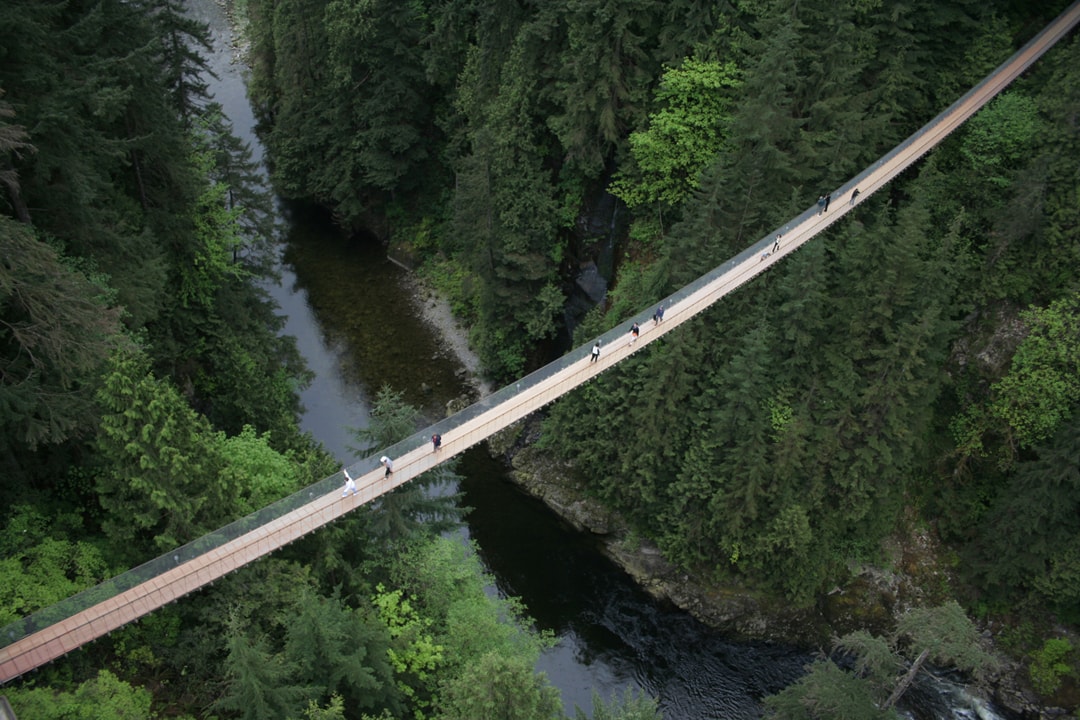 Image via Tourism Vancouver
Lightning round recos for day trips and more:
Go to Queen Elizabeth Park at sunset. It has a beautiful view of the North Shore mountains and the city from west to east. The gardens are so beautiful in full bloom in August. – Jaclyn Cummings
Head up to the Sea-to-Sky Gondola! You won't regret it. It's very accessible for most people and the views are incredible. – Rob Bucci
Stay in Kitsilano. It was a beautiful area! I would probably stay there every time I visit. I'd recommend bringing the fam—it was a great city to have the kid and felt really walkable, so take advantage of that. – Wil Reynolds
Go to Bowen Island and spend the day exploring. It has something for everyone from hiking and biking to eating and drinking. Check out my favourite store, Branch and People. Then go eat seafood and drink a good old Canadian Caesar. – Kathleen Reid
Drive up to Squamish via the Sea-to-Sky Highway, stop for a burger lunch at the Watershed Grill, then head up to Whistler for dinner and drinks. The drive itself is breathtaking. It's the journey, not the destination.- Sandy Pell
I feel like the Grouse Grind is a rite of passage. But for something more mellow, I think Prospect Point at sunset is a must see! – Sunny Lenarduzzi
Check out Stanley Park. It is truly a unique aspect of Vancouver – the park is huge (840 acres) and wilder than one would expect. Among other things, it has a record-breaking Big Leaf Maple tree that is over 800 years old. – Michael Aagaard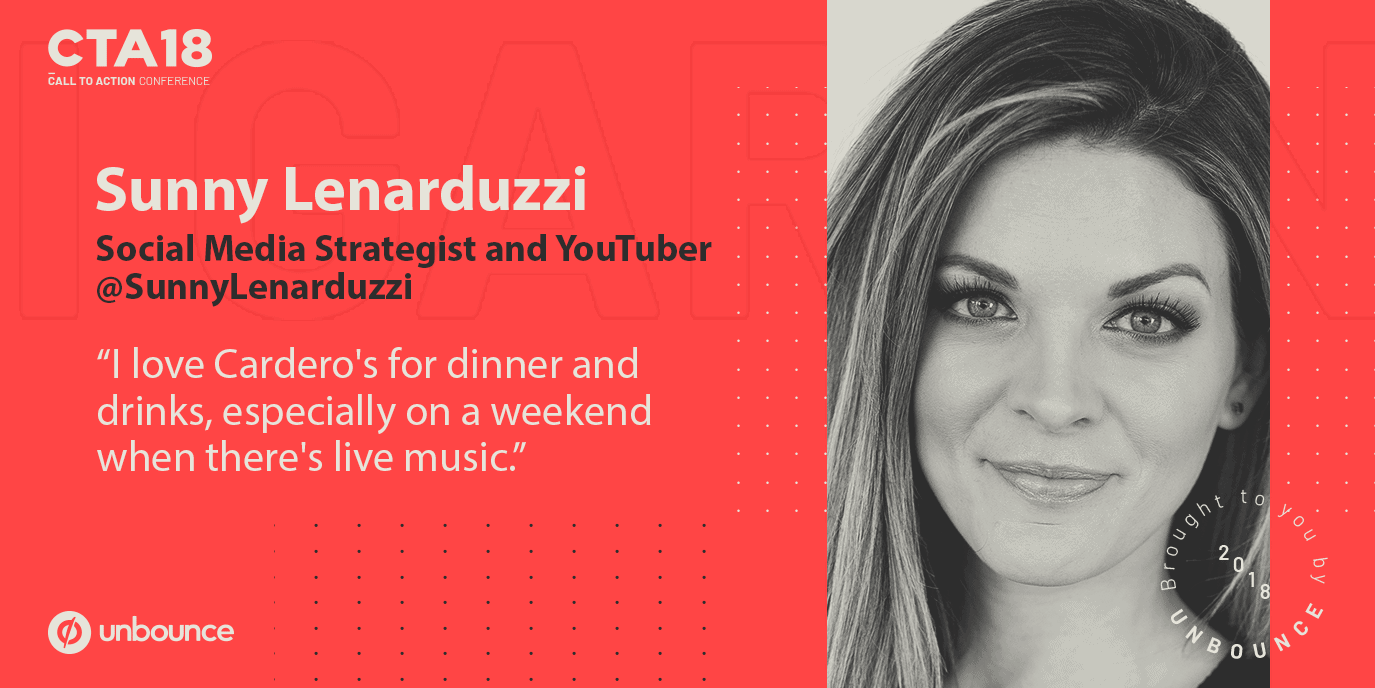 If you're here for workshop and conference days only…
Depending on whether you've signed up for the August 27th workshops, Monday through Wednesday will be jam-packed with marketing learning. Monday's workshops are optional and on a first-come, first-served basis after registration is sent out to ticket holders.
Both Tuesday and Wednesday are busy with talks starting at 9am sharp. These days you likely won't want to miss anything in the theatre (save for trips to the food trucks outside). There's a stellar lineup gracing our stage, after all.
But, if you fancy grabbing your own breakfast or want to meet up with fellow conference-goers for dinner or drinks, there are plenty of local places to do so. Even if you aren't tacking extra days onto your trip beyond the actual conference, you can hit up some local spots before and after Tuesday (remembering that both Monday and Wednesday evenings are the reception and after party nights respectively).
Here are some suggestions for excellent pre-and-post conference free time: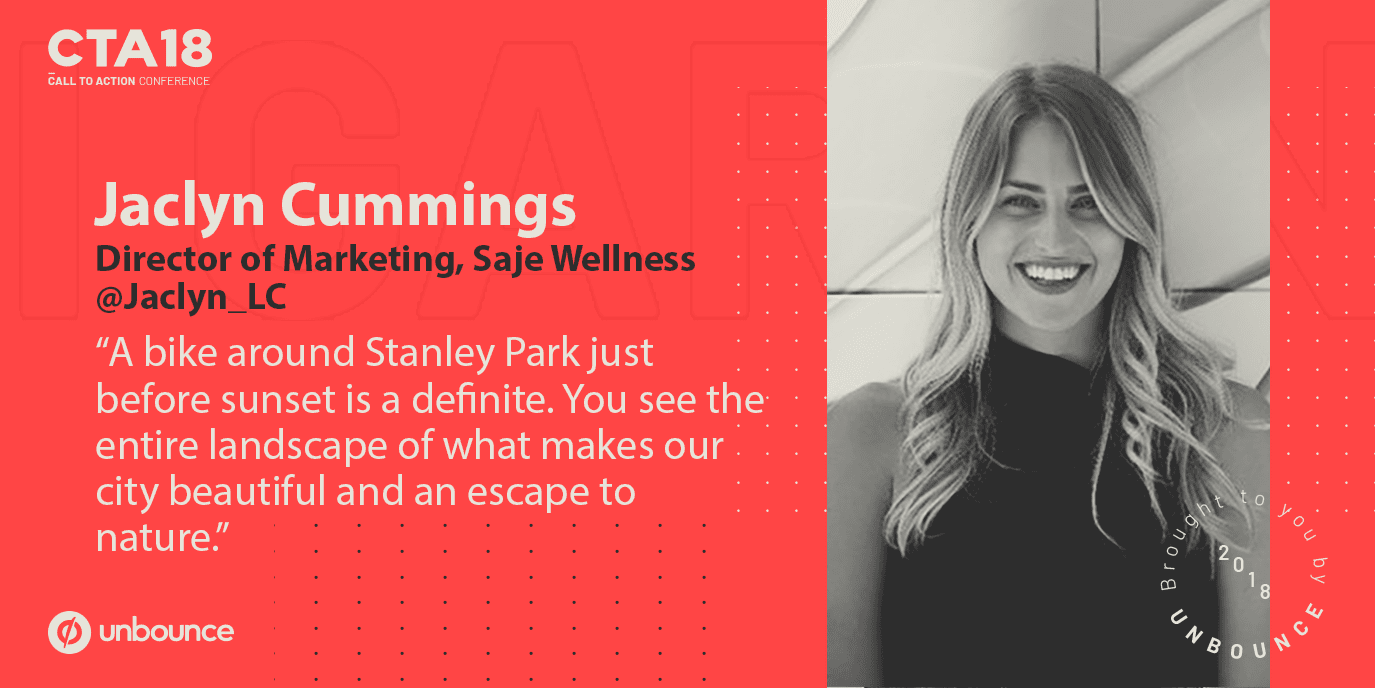 I loved the food at Maenam, it was so good I went twice! I also liked all the breweries in the Mount Pleasant area. – Wil Reynolds
Elysian Coffee bakes their own chocolate chip cookies in-house and they are incredible. They also have great coffee. – Rob Bucci
One of my favorite places is Forage. They have an incredible brunch menu and their dinner as absolutely amazing too. Another spot that is worth checking out for dinner/drinks is Vancouver Urban Winery – yum! – Michael Aagaard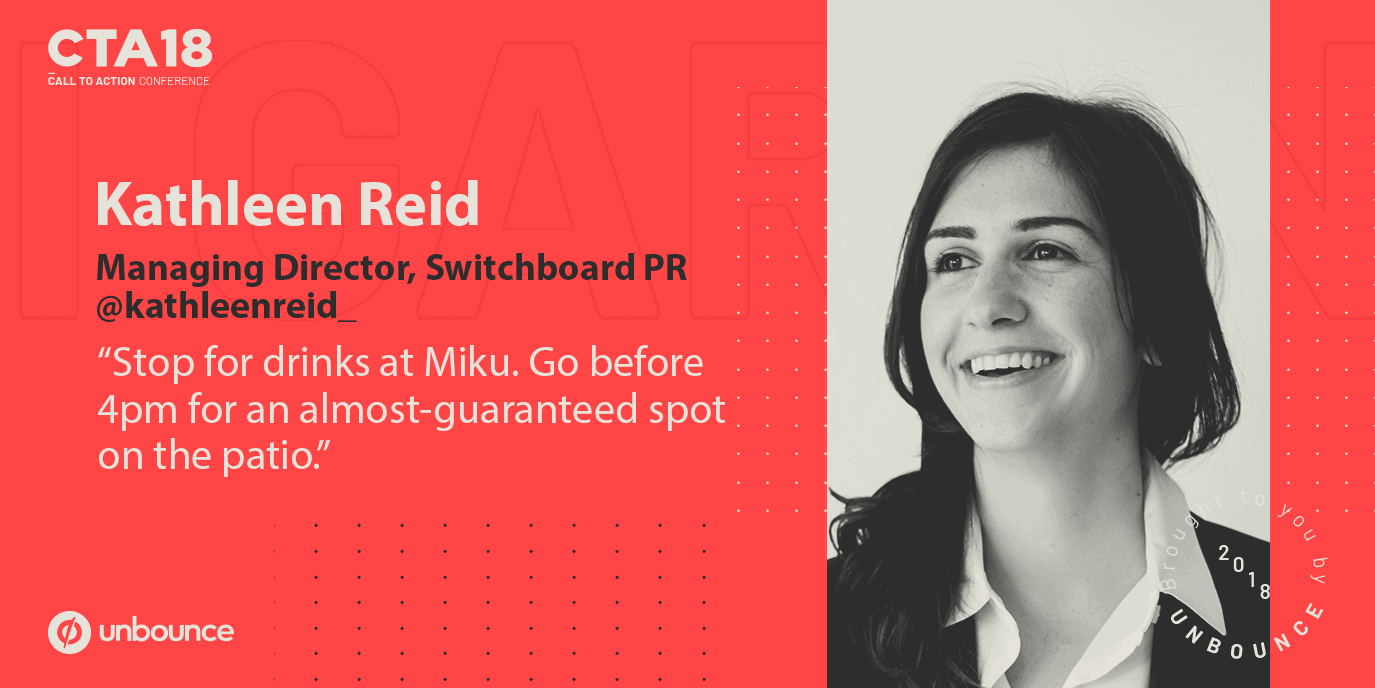 A chance to enjoy it all for free
In partnership with the fine folks at Tourism Vancouver, we're excited to offer the chance at a Call to Action Conference Vancouver getaway worth $3,500 CAD! This includes one ticket to CTAConf, $500 toward your travel expenses, and a "Destination Experience Pass" that gives you free access to the attractions listed here—plus many, many, many more. All you have to do is click below and tweet.
Share this post via the button provided to enter for your chance at the ultimate work trip. The contest period runs until June 28th at 11:59pm PT and one entry per person is counted.
Or—if you're not feelin' lucky and simply can't miss out—grab your tickets now with an additional 15% off using the code "CTAConfVancouver" at checkout. Good luck and we hope to see you in August!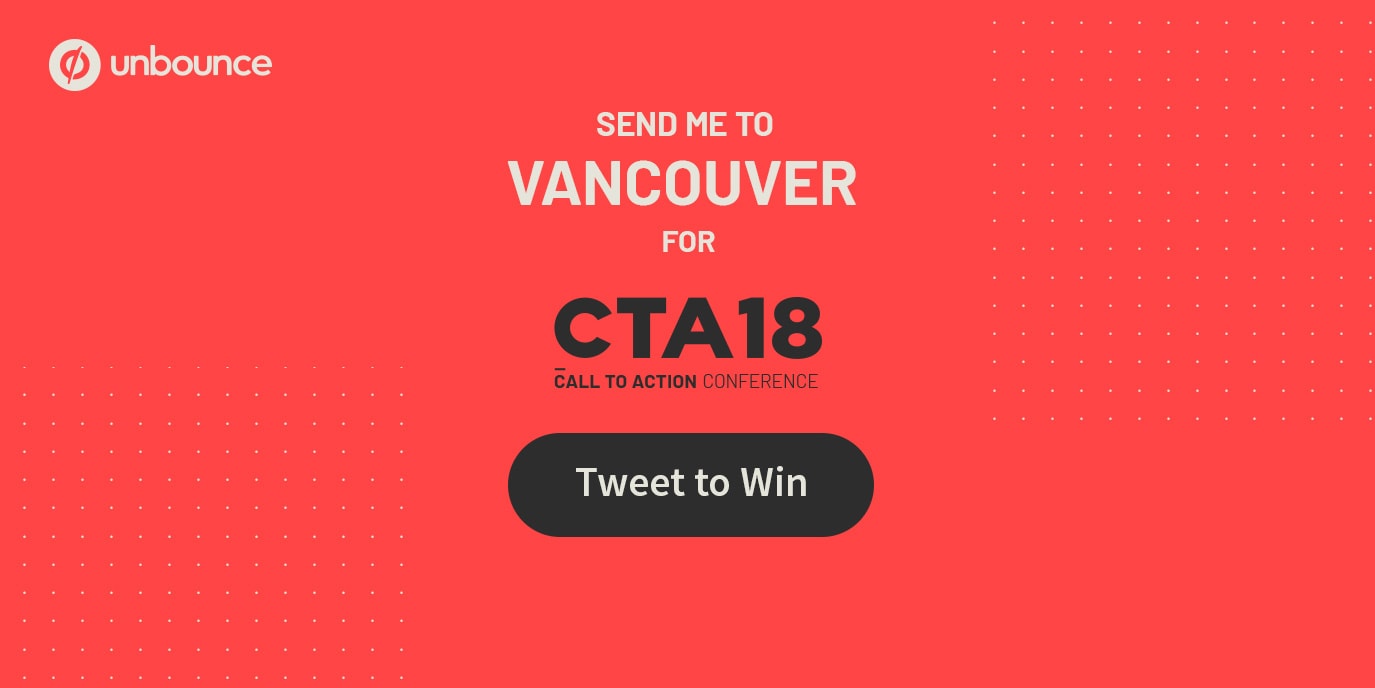 The "CTAConf Vancouver Getaway!" Sweepstakes begins on June 15, 2018 at 12:00 am PST and ends on June 28, 2018 at 11:59 pm PST. No purchase necessary to enter or win. Open to everyone, excluding residents of Quebec and British Columbia. Entrants must be of 19 years of age or older.
One winner will receive a $500 CAD flight voucher, a ticket to Call to Action Conference, and a Tourism Vancouver Destination Experience Pass (approximate total retail value $3500 CAD).
Enter the sweepstakes during the promotion period online by sharing the prefabricated Click-to-Tweet on Twitter. Only one entry per individual or organization. Automated or robotic entries submitted by individuals or organizations will be disqualified. Any attempt by entrant to obtain more than the stated number of entries will void entrant's entries and that entrant may be disqualified.
The winner will be selected in a random drawing from among all eligible entries received throughout the promotion period. Odds of winning will vary depending on the number of eligible entries received. The random drawing will be conducted within 24 hours after the promotion period. Winner will be notified by direct message on Twitter approximately within 24 hours after the random drawing. Potential winner must reply within four business days of being notified. Any winner notification not responded to may result in prize forfeiture.
Any personal information supplied by you will be subject to the privacy policy posted at unbounce.com/privacy. By entering the sweepstakes, entrants release Twitter of responsibility and agree to Twitter's terms of use.